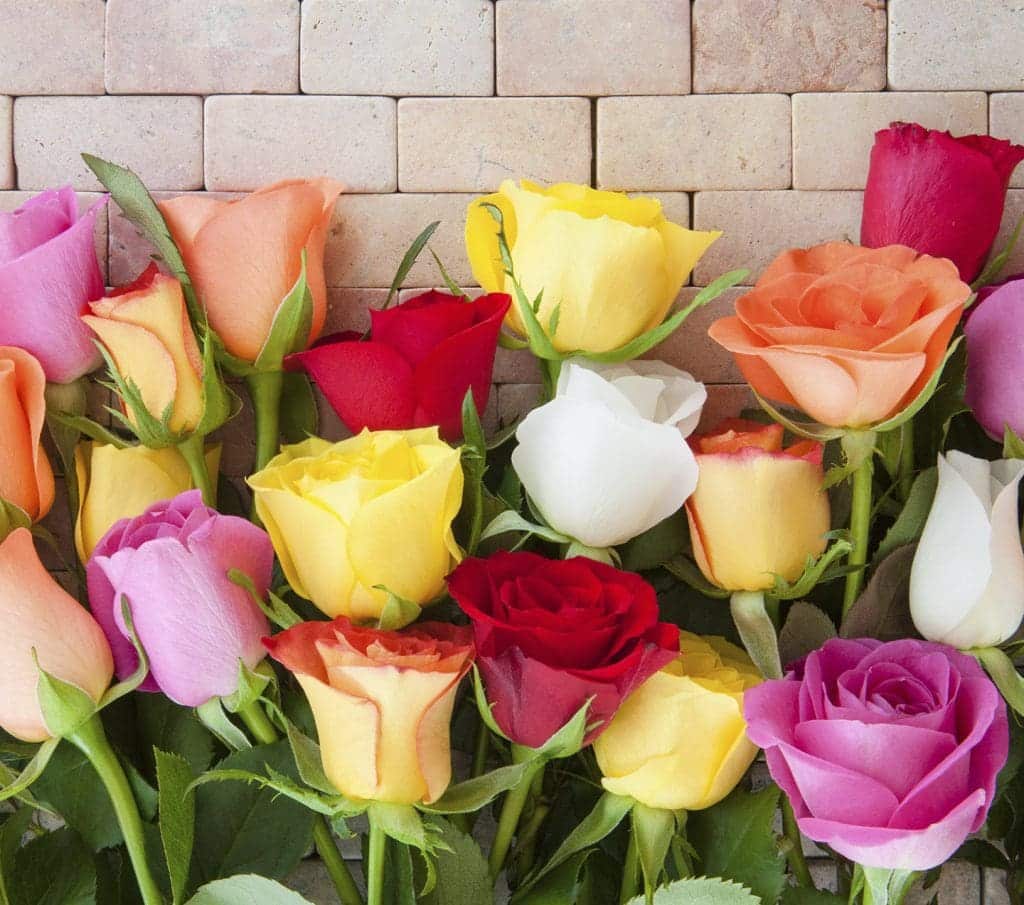 Everyone loves roses, but most people don't know how many different types of roses there really are. Many people mistakenly think that a good quality rose should have as many petals as possible so that it looks full and opens beautifully, but the reality is that each species of roses has a different number of petals, and can be more suited for one use over another. Here are some interesting facts about rose varieties:
There are over 150 species of roses, and thousands of hybrids
Depending on the variety, a rose can have as little as 4 petals or as many as 100 in a single bloom! According to The American Rose Society these are the main categories of roses, based on their petal count:

Singles have 4 – 8 petals
Semi-doubles have 9 – 16 petals
Doubles have 17-25 petals
Full have 26-49 petals
Very full have 41 or more petals

There are three main classes of roses:

Wild Species Roses – generally these have around 5 petals, and are often seen in gardens. Wild Species Roses are not commonly used in arrangements since they don't open to be very full due to the small size and low petal count.
Old Garden Roses – these have the strongest perfume, are easy to grow, and come in many colors, although most are pastel-colors. Their shape is more free-form, and the flowers tend to be very open. They have fluffy, romantic textures and have become very popular in wedding bouquets.
Modern Roses – all roses identified after 1867 are considered Modern Roses. Colors tend to be vibrant and are very varied. This is rose type we usually think of when we think of roses, and each stem only grows one bloom, making them perfect for fresh-cut arrangements.

Generally, roses with lower petal count are preferred for events, since the blooms open quickly and look very full, however they don't last very long, which makes them unsuitable for home arrangements.
There is such as thing as roses with too many petals for fresh-cut arrangements. Although in the wild they would blossom with large full heads, in a vase they will probably wilt before they fully open, making them seem old and never reach their full potential.
"LIFE IS SHORT MAKE EVERY OUTFIT COUNT"

Phillip Caldwell
Aliquam convallis massa quis dignissim lobortis. Maecenas in massa non eros maximus varius et id nunc. Class aptent taciti sociosqu ad litora torquent per conubia nostra, per inceptos himenaeos. Nunc lobortis justo quis vulputate scelerisque. Mauris at nulla sed sapien tempor varius sit amet id est. uisque venenatis bibendum
All the rumors have finally died down and many skeptics have tightened their lips, the iPod does support video format now on its fifth generation. While the iPod is not the first to come up with this, it has certainly made its stature as the greatest in the market and can be dubbed as the best multimedia portable player available.
With its popularity and iconesque standing, the iPod has made sharing videos easier. You don't need to be lugging around different equipments for your music, your notes, your photos and your videos. You can have the standard where every other portable multimedia players are gauged to and not need anything else.